Who's (At)Tending to Transfer? An Invitation
A Keynote by Dr. Jessie L. Moore | CV

Description: Reflecting principally on writing transfer research and pedagogy from the past decade, this keynote invites attendees to think about who's (at)tending to transfer – and who could be. Writing studies scholars have examined both perceptions of and experiences with repurposing or transforming prior writing knowledge for new contexts. Our theories and frameworks offer productive lenses for understanding writing transfer. But what might come into clearer focus with other lenses? And how might other contemporary teaching and learning frameworks help us reimagine who is (at)tending and invite collaborative partnerships in support of learners' writing transfer?
Dr. Jessie L. Moore is director of the Center for Engaged Learning and professor of English: Professional Writing & Rhetoric at Elon University. She previously coordinated Elon's first-year writing program and professional writing & rhetoric program. She received her Ph.D. and M.A. in English – Rhetoric and Composition from Purdue University.
Jessie leads planning, implementation, and assessment of the Center's research seminars, which support multi-institutional inquiry on high-impact pedagogies and other focused engaged learning topics. Her recent research examines transfer of writing knowledge and practices, multi-institutional research and collaborative inquiry, writing residencies for faculty writers, the writing lives of university students, and high-impact pedagogies. She is the co-editor of Critical Transitions: Writing and the Question of Transfer (with Chris Anson, The WAC Clearinghouse and University Press of Colorado, 2016), Understanding Writing Transfer: Implications for Transformative Student Learning in HigherEducation (with Randy Bass, Stylus, 2017), and Excellence in Mentoring Undergraduate Research (with Maureen Vandermaas-Peeler and Paul Miller, CUR, fall 2018). Her work has appeared in Computers and Composition, Composition Forum, Composition Studies, Journal of Faculty Development, Journal on Centers for Teaching & Learning, TESOL Journal, Written Communication, and in edited collections.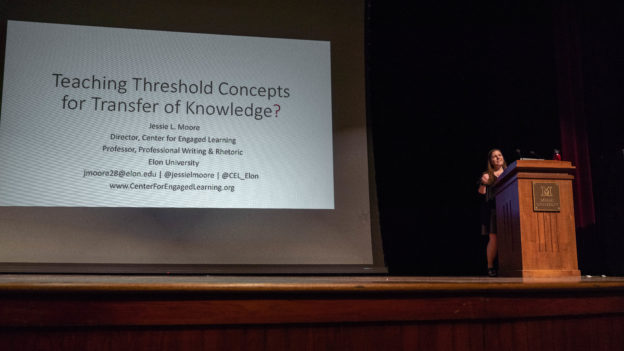 Jessie currently serves as the elected Secretary of the Conference on College Composition and Communication and as Chair of the International Society for the Scholarship of Teaching and Learning (ISSOTL) Communications Committee. She previously has served on the Executive Committee for CCCC, as U.S. Regional Vice President (2016-2018) of ISSOTL, as the inaugural Chair-Elect (and subsequently as the Chair and Past-Chair) of the Second Language Writing Interest Section of TESOL, and on the Board for the Carolinas Writing Program Administrators. In 2013, she co-hosted the International Society for the Scholarship of Teaching and Learning conference with Peter Felten and developed ISSOTL Online 2013, which featured strands on SoTL foundations, studying and designing for transfer, and student voices in SoTL. Her full CV is available at jessie.jessiemoore.net/research.